Adventures in Dance Named Top 50 Dance blog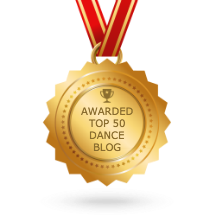 As a small business, I have been told countless times that it was important to blog. Two years ago, I took a class on blogging for business, after that I got serious about writing dance blogs.
I started with writing the history of each ballroom dance, then branched out into a vlog of "Holly's hot wedding tips" where I interviewed Colorado wedding professionals for their best tips for brides planning their wedding. This last year, I went a totally different direction and created the historically accurate princess dances.
I was surprised Tuesday morning with notice that I won.  I was one of 50 top dance blogs you must follow, published internationally by Feed Spot. I was thrilled that with only two years of blogging I rated 37th for dance blogs on ballroom dance, dance history, wedding dance, and where to dance.
BlogSpot used four criteria to determine who they included on their list: Blog following, Facebook following, content, and score. I am so grateful that I made this list. Blog on man!
Holly Collins

WEDDING DANCE instruction
DANCE LESSONS.
author of
Holly's hot wedding tips, 
Historically Accurate Princess Dances,
Winner of the Knot best wedding dance,
Winner of top 50 Dance Blogs
Champion Ballroom Dancer & Coach
owner of
Adventures in Dance
720-276-0562
info@adventuresindance.com
www.adventuresindance.com
For dance tips,
join my email